When you plan to beautify your home, you concentrate on the tables, chairs, and sofas. You also pay to concentrate on the type of floor. You don't even forget the colour of the curtains and paint of the walls. However, you typically ignore the significance of maintaining appropriate illumination.
You want to make envy your friends, fellows, and neighbours? You look closely at your home interior and exterior and you think, there should be something which could stand up in the massive crowd? Are you thinking the same, Yes, LED Flame Bulb can make envious the people who live around you?
Originally these little things collectively produce magnificent results. Your fellows will visit your home be really astonished to see the little decorative piece. And obviously, there are going to ask you about, wherefrom you got this stuff and like that. Keep quiet and spread a little smile on your face to enjoy the scene.
We are ahead one step- and we are going to unveil the top 5 Flame Light Bulbs
5 Best LED Flame Effect Light Bulb
These Flame Lights bulbs can be used to decorate your interior and exterior. There is a wide range of colours and designs from where you can choose accordingly your taste. Most of the LED Flame Bulbs emit the true flams with different fine colours.
So, pick the best-LED Flame Light bulb of your taste, they are exactly what you need.
Flare – The Flame LED Light Bulb
Flare LED Light Bulb Cost: $20.99
Light up your residence and workplace today with a cool, cosy glow of shining flames, without using actual flames. Those who never leave the lights on all night, now they will show off.
Flare LET Flame light bulb is second to none in quality and style. The Flickering flame of it helps you to relax your mind and calm your soul. This decorative light bulb looks like a flaming fire torch from the bottom to top and what you were hunting for.
The three modes of it can help you to get the right shade, flickering, breathing and general. Put the right mode of this bulb on according to your mode and taste.  Flare is easy to use, safe without the fire risk, you can produce an evocative, and even dreamy effect, as you swap traditional gas lanterns and candles.
Flare – The Flame LED Light Bulb Features
Lifetime: 50000hrs+
Lumens: 700LM
Size: 5.4in x 2.4in
Colour temperature: 1500K
Gravity Sensor
Artificial vivid and dynamic moving flame
Beam Angle: 360 Degrees
Wattage: 9 watts
Voltage: AC 85-265V
Unique piece of the decorative light bulb
Simulates ordinary flicker flame but flameless
Texsens Flame Lamp
Texsens Flame Lamp Cost: $21.99
Texsens LED flame light bulb is perfect for beautification open-air or indoor, it comes with breezy warm shade, additional lighting choices for your residence. I would say Flame lamps are dime a dozen but a product like Texsens Flam LED; you will never see a bulb-like that.
Texsens Lamp in genuine does not cast any light, but they are designed in a way to look like the real flickering lamps. Texsens Flame Effect Light Bulb is a magical invention LED lighting, LED the flame bulb that like gas fire, lets your house look more strange and gorgeous.
So, put your hands on these Bulbs and decorate your Bedrooms, living rooms, bars, hotels and coffee shops. This flame lamp got no open flame, they are a very safe and energy-saving LED light source.
This decorative light bulb is essential for every household, decorative build with warm flame colours.
Texsens Flame Lamp Features
Input voltage: AC90-265V
Colour temperature: 2300K
Power: 1.8W
LEDs: 105PCS
Operating Temperature: -20℃-+48℃
Light Angle: 270°
Frequency: 50-60 Hz
Light Source: 105pcs 2835 led beads
Bulb Holder: E26
EnLIGHTen Flame Effect LED Bulb
EnLIGHTen Flame Effect LED Bulb Cost: $98.68
EnLIGHTen Flame Effect LED Bulb giving you Passionate Feeling, breathing Mode full of mysterious feeling with general lighting mode and it is one of comfortable lighting colour flame bulb. If you are consciously thinking about decorating your home with different products, enLIGHTen Flame Effect LED Bulb should be the top of the list.
It seems like a real fire in the bulb, but in genuine the LED Lights dancing in it. These bulbs come in a wide range of colours and designs; you need to choose the best. You can install them on your blue world city, bedroom, hotel, restaurant and coffee shop and exponentially enhance the beauty of the place.
EnLIGHTen Flame Effect LED Bulb Features
Realistic fire flickering flame
Wattage: 7 Watts
Voltage: AC 100-265V
Beam angle: 360 degrees
Size: 65 x 138mm / 2.6 x 5.4 inches
Powerful led light
Saves energy
Upside down installation
Ideal for indoor/outdoor use
Creative Hobbies Flicker Flame Light Bulb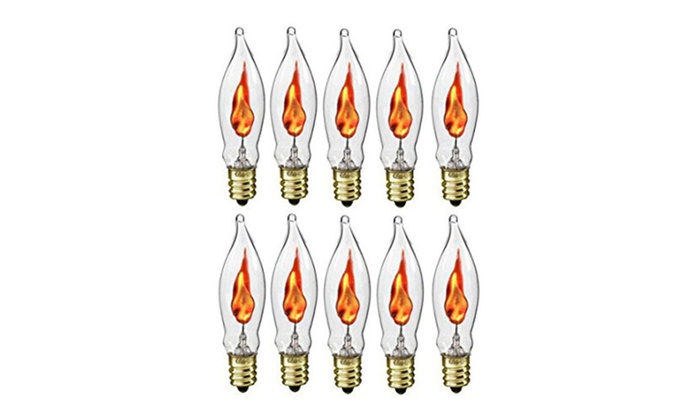 Creative Hobbies Flicker Flame Light Bulb Cost: $9.99
Do you want to upgrade your illumination? If you are in hunt of a well-performing and energy well-organized light bulb then Creative Hobbies Flicker Flame Light Bulb is the perfect solution for your match.
These Creative Hobbies Flicker bulbs are specially designed for special occasions like holiday projects, in electric candles, chandeliers. They emit unique flamed shaped small orange light like a candle, and a soft orange glow can add a cherry to the cake.
The orange glow which flickers and dances up and down seems like a real candle is flickering. The low voltage of it saves energy, and its size fits in many applications like windows single, sconces and much more.
Creative Hobbies Flicker Flame Light Bulb Features
Box of 5 Bulbs
3 Watt
130 volt
E12 Candelabra Base
Flame Shaped
Nickel Plated Base
Dances with a Flickering Orange Glow
CPPSLEE LED Flame Effect Light Bulb
CPPSLEE LED Flame Effect Light Bulb Cost: $12.99
CPPSLEE Fire effect light Bulb is a thrilling product hot LED lighting and fire led bulb that seems gas flames blub, let your home look more mystifying and stunning. CPPSLEE LED Flame Light blub is a product that can be used broadly to illuminate the interior/exterior of your home. An ideal light source and it can dramatically change your casual date to a romantic one.
Installation of this bulb also very easy, you can install with the socket facing up and down. To get the fire extending from the bottom of the bulb to updated, get it installed in the socket facing up and vice versa.
CPPSLEE LED Flame Effect Light Bulb Features
Bulb Holder: E26
Lighting Power: 4.5W (150 lumens)
Shape Type: Tubular
Package: 1 PCS LED BULBS
Operating Temperature: -20℃-+48℃
CCT: 1300K
Power: 1.8W
Light Source: 105pcs 2835 led beads
Main Material: PC+Aluminum