You might have heard the famous saying "Picture speaks a thousand words" Imagine the impact of videos.
Videos have become one of the most impressive and impactful ways to convey your messages. People tend to watch videos on their search queries over the internet instead of reading content. The videos are the future of content marketing, and recent surveys have clearly shown the dominancy of video sharing websites.
"Like, YouTube has become the second most used search engine, following Google." So, if you have made up your mind to create a Vlog, then get your foot into the doors, as it is the right time to get it started.
How to Pick the Right Vlogging Camera?
Starting a vlog is not that difficult, you just need to have a decent camera and a nice microphone to get it started. It is a free resource, and in the shape of YouTube, you got a platform, where you can upload those videos, no need to buy hosting.
Now, you want to know how to pick the right Vlogging camera, as you are not an expert in photography, and do not know what features should be in a quality camera. These few lines can help you in choosing the best vlogging camera
Low-light Performance
In Vlogging, while filming the experience, there are greater chances you would not be able to control the light. Hence you need to pick a camera that could perform well in low light. To give your audience the level of quality they deserve, you need to have a camera that could perform in low-light conditions.
Most of the newbies think, the low light condition only needed when filming outdoor- that is totally a misconception. In indoor environments, you also needed light to get the best results, and if you do not have that arrangement, you must get a camera that could perform in that condition.
Sensor
Sensor size is one of the most important features you need to consider while purchasing a vlogging camera. A larger sensor can capture more light, and this is very important for vlogging. DSLR cameras tend to have the biggest sensors, and you need to buy a high-DSLR camera with a good sensor size.
Microphone
Clear and noise-free sound very impacts to engage the users and can enhance the experience of watching videos. To get the best sound, you need to choose a vlogging camera that has a microphone input. In compact cameras, you will not find this feature, it is considered as premium features. If the camera you are using can take input from the microphone, it can enhance the quality of the sound. If you cannot afford an external input microphone camera, you at least know the position of the camera's built-in microphones.
Portable and Lightweight
As a Vlogger, you have to travel a lot, and carrying bulky equipment is not a good idea. There are many portable and lightweight cameras on the market. Choose when which is easy to pack and easy to carry.
Flip Screen
A flip screen will help you a lot while recording, it allows you to see how you look in the camera. It also helps you at shooting at ground level and implementing some clips with a different angle.
Possibility to Shoot High-Quality Videos
Most of the vlogging cameras can shoot at full HD resolution, (1920 x 1080) which is good. But, if you want to create videos of higher quality than this, then you need to choose a 4K resolution vlogging camera.
Here is the list of ten best vlogging cameras we picked up
Sony a7R II
Sony a7R II Cost: $1,998.00
If you want me to ask which camera most of the famous vlogger use, this is Sony a7R II. The camera might be the most expensive in the list, but 42.4 Megapixels can provide you the cleanest and clearest pictures you ever clicked. This is the world's first 35mm Full-frame image sensor with the illuminated structure.
The rest of the capabilities are exactly what you would expect from a high-resolution camera, weather-sealed magnesium alloy body, twin control dials, and customization of control points are the features that stand out this piece in the massive crowd. The battery of the camera lasts 4 hours and flexible screens offer you a wide range of motions.
Sony a7R II Features
42MP full-frame BSI CMOS sensors
399 on-sensor phase-detection points
Advanced image sensor and Af algorithm
5-axis image stabilization
Fully magnesium alloy constructions
3M dot OLED viewfinder with 0.7x magnification
Internal 4k Recording
Sony a6500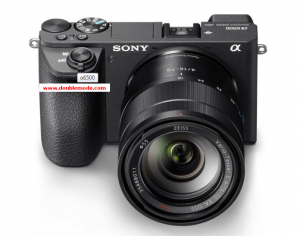 Sony a6500 Price: $1,298.00
No doubt Sony a6500 is one of finest vlogging camera you can find in the market. With class-leading portrait and landscape scores, it offers exceptional image quality. You will find the Landscape, portrait and street photographers using this convenient smaller body camera.
Though 24.4 Megapixels cannot compete with Sony a7R II, But it can take pictures of 6K resolution, and it is capable of shooting videos at 4K resolution. The touch screen feature adds the cherry on the cake, and it is the perfect companion when you take a picture or shoot a video.
The autofocus of this camera is really impressive, which leads you to view clearer and sharper than ever before.
Sony a6500 Features
24MP APS-C CMOS sensors with 425 phase-detection points
36M-dot OLED EVF
Tilting rear touchscreen
5-Axis body image stabilization
11fps continuous shooting
Internal UHD 4K Video & S-Log3 Gamma
S&Q Motion in Full HD from 1-120 fps
Up to 11 fps Shooting and ISO 51200
For those who really needed a lightweight camera, stable, fast and versatile Alpha A6500 is a nice grab.
Canon 70D
Canon 70D Price: $1,199.00
If you are very serious regarding your professional YouTube career, then you need to get this Vlogger camera. You know, Zoella, a famous you tuber, she uses the same camera to set up her professional career, and you vouch for the quality videos of her channel.
This camera is very popular among YouTubers, as most of them can afford this. This product stands out in the massive crowd when it comes to continuous autofocus features among all other DSLR cameras.
Canon 70D Features
Fully articulated touchscreen
Single SD/SDHC/SDXC card slot
Built-in Wifi
20/2 MP APS-C DUAL PIXEL CMOS
AF sensor
ISO 100-12800 standard
7fps continuous shooting
Silent shutter mode
63 ZONE IFCL metering system
98% Viewfinder coverage
High dynamic range with multiple exposures
Creative filter
AF micro-adjustment as off-camera
Panasonic LUMIX DMC-G85MK
Panasonic LUMIX DMC-G85MK Price: $999.99
Another top 4k resolution camera best for vlogging, Panasonic LUMIX DMC-G85MK. Unlike other many products of the same niche, the camera is not that bulky and delivers superior quality image and video productions. The product comes with several 4k modes and can be used to produce images and videos with fast, precise and clearer.
The camera will take your blogging career to another level by making vlogging easier. The camera comes with an interchangeable lens, built-in WIFI, and 4K video resolutions. 5-Axis Dual image stabilization helps you in reducing motion blur for clearer and cleaner images. For travelers vloggers, who record themselves while moving, should get the product for better results.
Panasonic LUMIX DMC-G85MK Features
Less bulky than other DSLR cameras
Panasonic LUMIX is the compact 4k video-enabled mirrorless camera with impressive image quality
4k Video recording at 30p/24p 100 Mbps
5 MM Port for external microphones
Weather sealed, splash-proof, dustproof, rugged enough withstand
16-Megapixel MFT
Interchangeable lens options
Expand creative possibilities with interchangeable lenses
Canon PowerShot G7 X Mark II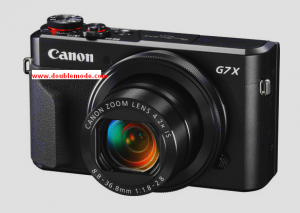 Canon PowerShot G7 X Mark II Price: $699.00
Canon PowerShot G7 X Mark II offers excellent value for your money. With built-in WI-FI and Bluetooth option, this product is one of my favorite when it comes to vlogging. You easily can share clicked images to Android devices, computers and social sharing websites with one tap of the finger.
It has a 40x Zoom and three-inch touchscreen, with 1080p video quality options; it is one of the hot choices among vloggers. It has Digic 6 image processing, which can produce power and speed to your videos and images clicking. This is among those cameras which can automatically remove the noises out of the videos.
In fact for vlogging, you cannot pick better than this, as by using this you would not be needed artificial light source. For low light conditions, and producing the best quality results, Canon PowerShot G7 is the ultimate choice.
Canon PowerShot G7 X Mark II Features
Great low-light performances
1080P video capturing
Manual control
Auto Noise removing
Raw format shooting
Optical image stabilization
2 Megapixel sensors
Digic 7 image processors
60 FPS
2x optical zoom
Built-in WI-FI
Canon S120
Canon S120 Price: $500
Canon S120 is one of the popular choices among professional vloggers. This camera is very easy to use and lets you wirelessly transfer captured videos and images to the Android mobile phones and social sharing websites. This camera is considered as the alternate of G7X in a low budget.
Image stabilization, the wide-angle lens makes this product apple of the vlogger's eyes. The camera captures the videos in 1080P; a built-in microphone allows you to record the turbulence-free stereo sound. The camera is considered the best pick for the vloggers who use to record videos in low-light environments.
Canon S120 Features
Built-in WI-FI Tech allows you to transfer images and videos on Social networking sites, and video sharing sites wirelessly
Capture videos in 1080p full HD
Stereo Sound with dedicated movie button Sound with dedicated
1 Megapixels
A bright f/1.8 lens with 5x optical zoom and 24mm wide-angle view
Go Pro Hero 5
Go Pro Hero 5 Price: $399.00
If you are searching for a best-priced vlogging camera, then you would not go wrong to buy GoPro Hero5. GoPro is one of the most advanced companies working from years on this niche, so we can expect the best vlogging experience from this camera. This is one of the lightest and smallest units till the date in our list.
Electronics image stabilization, voice control, and waterproof are some of the astonishing features of this product. The video quality is really outstanding, and image stabilization eradicates the jerkiness while walking and recording. If you ask me about an overall brilliant camera, then you must pick is the pocket-sized camera.
Go Pro Hero 5 Features
4K Resolutions
30FPS
12 Megapixel Camera
Waterproof to 10m without a case
Dual microphone
Built-in GPS makes everything just perfect
Electronic image stabilization
Raw photography
Wind noise controlled
Great microphone, with improved designs
Automatic location tracking
Olympus PEN E-PL7
Olympus PEN E-PL7 Price: $599
This Olympus PEN camera is often considered as the blogger camera, and you can see it why. The camera is perfectly designed for social media videos creation, YouTube videos, and Vlogs. The E-PL7 is the newest model, and it has a number of great features, like flip-out-screen, WI-FI, and colorways.
There is in the camera application, to edit the videos and images according to your choice, and 14.42 mm lens delivers the great-looking videos with interchangeable lenses to maximize versatility. The model is just perfect to share your content on social media websites and Video sharing portals with just a few taps. Image stabilization allows you to create content while walking and running down on the streets.
Olympus PEN E-PL7 Features
1 Megapixels camera live MOS Sensors and TruePic VII image processor
Built-in WI-FI
The automatic self-mode setting, including wide-angle lens positioning
Large, Flip-down and table high-res LCD Touchscreen
Light-weight
Retro Styled camera
42MM Lens Kit
Interchangeable lenses
Panasonic Lumix GH5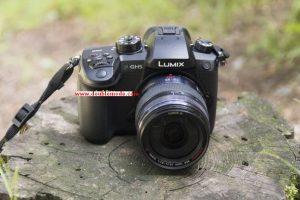 Panasonic Lumix GH5 Price: $1,697.99
If you really want to create professional content in the shape of videos, then Panasonic Lumix GH5 should be considered at the top of the list. Certainly not a cheap camera, you need to pay £1,699 to get your hand on to this piece. But, vloggers love to get and use this camera, due to its versatility and shooting videos in 4K Footage at 60 frames per second.
This camera uses super high-resolution for perfect framing in all light conditions. Those who are looking for to get a camera which could perform well in low light conditions, consider this camera on the top of the list. The camera has two SD card slots; you have no need to create copies of the same videos, as all the content automatically saved on both of the SD Cards.
Panasonic Lumix GH5 Features
New 20.3MP Sensor w/o LPF / NEW Venus Engine / 5-axis Dual I.S. 2
.05 sec AF with Advanced DFD
Two SD Slots
Rear monitor type in thin films transistor LCD Monitor
Image stabilization
Image sensor shift Type
Dual I.S
Ability to shoot videos at a 4K resolution
Canon PowerShot ELPH 110
Canon PowerShot ELPH 110 Price: $229.00
Canon ELPH lineup was started back in 1996 with the release of a sleek, stylish and compact size film camera with the same name. The camera became one of the best-selling APS camera ever made, and later on, quickly switched to the digital lens in 2000. Since then the cameras have consistently remained among the best sellers on the market.
The feature which makes this brand stand out in the massive crowd, Ability to record videos for countless hours. It records a Full 1080P HD video with stereo sound. Just press the button and get the job done. 16Megapixesl with high sensitivity CMOS sensors provide you astonishing results to shoot the best videos for your Vlog. Digic 5 Image process, 24mm wide-angle lens with 5x optical zoom are cherry on the cake.
Canon PowerShot ELPH 110 Features
16 Megapixels CMOS sensors
Digic 5 Image processor
5x optical zoom with optical image stabilizer
Full 1080p HD Video at 24 FPS in stereo sound
Lithium-ion battery
Little Brief About Vlogging
Vlogging stands for videos blog, a blog or a website where most of the content shared in videos. Vlogging is the trend of the moment, and believe me, this is growing immensely.  The top influencer bloggers use YouTube or Facebook platforms to engage with the huge audience.
There will be a time when the Videos will be the only content to engage users and to convey the messages. According to Cisco, by 2020, 80% of the content on the internet will be video content. Most of the Vlogger hosted the videos on YouTube, and this video-sharing website has become one of the sweethearts for vloggers.
Now, you want to create your own Vlog to share the content of your favorite niche, and you need to buy a camera.
Right, keep reading then.
Though standalone cameras and smartphones can do the job when it comes to quality, you have to invest in Quality DSLR cameras, which could keep up your content. The Internet is full of the list of best vlogging cameras, but you need to get one that could fit in your pocket-size. So, here in this post, we are going to share with you the top Vlogging cameras, which will help you in creating the most amazing content for your blog.
There are a lot of great vlogging cameras available in the market, the list that we have created is compiled by the vlogging experts.