Education
VR Learning in High Schools – Equipment and Setup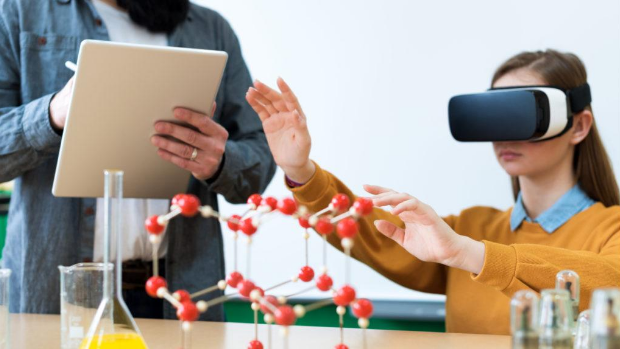 High schools are adopting innovative and immersive spatial technologies such as virtual reality and 3D data to enhance teaching. VR learning in high schools is a revolutionary learning method that makes it easy to quickly grasp complicated concepts. As it is gaining popularity, more high schools want to improve their educational outcomes. If you are one of them, first of all, you need a list of tools and equipment you need. You are least likely to know how to setup VR learning in high schools and how to find VR educational content. You may have heard of the benefits of VR in education. However, you may not have an idea of the skills and experiences your students can gain with VR learning in Australia. 
Equipment 
You need a set of equipment for VR learning in high schools. Here is a list of the basic equipment you must have.   
Secure Lockbox or Container 
VR Headsets 
You need one VR headset for each student. If your class has a large number of students and you don't want it to burn a hole in your pocket, compare VR headsets by different suppliers.  
Smartphones 
This is where the cost of VR learning in high schools can get high. However, attempts are being made to use advanced technologies to reduce the cost of VR learning. Smartphones are more affordable now. There is tough competition in the smartphone market. All brands are attempting to offer more features and functionalities at reduced costs.    
WiFi Router 
This equipment is optional. However, if you don't want to count on your school's Wi-Fi, you should have a more reliable Wi-Fi router. 
Secure Lockbox 
You need something to secure a smartphone. Choose the best secure lockbox. 
Setup
When you want to use VR learning in high schools, you need to plan ahead. Things may go wrong. After you have done all the setup, you must test the setup. If there is any issue with the setup, you can troubleshoot. This does not help when other students are learning and a few of them say that they cannot see anything. 
Smartphone Setup 
So far, there is no method that allows you to install all the required apps on all the devices at the same time. You need to install the required apps on individual devices.  
VR Headset Setup 
It is not difficult to set up VR headsets. You simply need to follow specific instructions for the particular model. Students may not get their smartphones lined up. Therefore, test your VR headset setup. 
Headphones 
Your students will use an app or watch a video. Therefore, you need reliable headphones. You cannot easily tell that students are watching the right video. You need to ensure that they are hearing your instructions. 
Web-Based Videos and Applications 
VR learning requires two types of applications. You can download an app to access videos and other forms of VR educational content. Apps can include VR games, recreation of places, and virtual worlds. You can do a little Google search to find a list of applications for VR learning. 
You can use YouTube to access web-based videos. Students may face some issues due to internet and Wi-Fi bandwidth limitations. Your nearest router may not be able to handle when you have 25 students streaming a video. You can download that video before starting the class.  
Using VR learning in high schools requires proper planning and strategy to invest money, time and efforts in this technology. Virtual Reality allows students to access VR educational content in different forms. They can visualize abstract concepts and empathize with peoples and perspectives. Integrating a VR experience into education can help in creating better professionals.