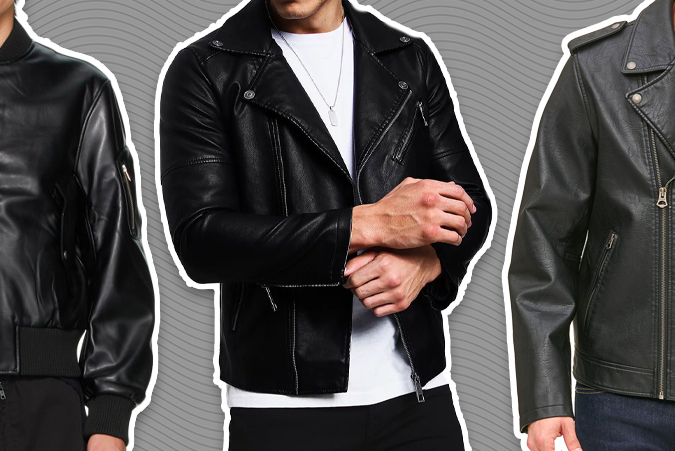 Vegan leather has been in the market since 1920s. It is usually known as faux leather, synthetic leather and pleather as well. Over the years, faux leather industry has gone through major technological and manufacturing developments. This brings us to the answer of the "Are vegan leather jackets made of plastic?" It is fair to state that most of vegan leather jackets are derived from plastic-based polyurethane chloride (PVC) and polyurethane (PU), however, there are various other vegan in nature products that are used in the manufacturing of faux leather jackets such as bark of trees, cork, apply peel and pineapple leaves etc.
Faux leather is usually made by binding a layer of plastic coating with a fabric base. Due to this, it is known as vegan leather jackets are made of plastic. Having said that, it is important to note that the plastic used for coating differs in type and variety.
Polyvinyl chloride, in other words, PVC was predominantly used in the production of these jackets up to 1970s. Later, it was replaced with polyurethane (PU) owing to the toxins it releases when burning. Furthermore, phthalates which are plasticisers are used to introduce elasticity to the material. Phthalates tend to release hazardous toxins depending on the variety utilized, hence, with recent manufacturing advancements, PU has been getting popular due to the fact that it releases lesser toxins when compared to PVC.
Since vegan leather is plastic in nature, it generally smells like chemically processed plastic. Some people define the smell as that of a fish.
Besides its smell, faux or vegan leather is available in various characteristics such as quality and appearances. While some varieties may be more close to genuine leather, others may be not regardless of it being a women's leather jacket or a man's leather jacket. It must also be noted that unlike real leather, vegan leather does not gets coated with patina hence an aged faux leather jacket will not be anywhere closer to the appeal of a real leather jacket. This is again regardless of the purchase made for a girl or boys leather jacket. WearOstrich claims to offer the purest leather jackets online for men and women.
Another important aspect that needs to be highlighted here is the debate on vegan leather being environmental friendly. The environmental repercussions caused by vegan leather are constantly under inspection. Generally, people tend to assume that since its "vegan" leather, it is eco-friendly in nature.
It can be conversely said that neither real leather nor vegan leather is environment friendly. This is due to the fact that the manufacturing process of faux leather emancipates toxins which are hazardous to not only the ecosystem but for the staff working within the manufacturing unit too.
The only reason it may seem supersede genuine leather with regards to being eco-friendly is that it does not involve slaying animal for a product manufacture. However, the harmful effects are reducing over time with the developments such as the use of PU which is solvent free or in some cases the amount of petroleum utilized is limited by using vegetable oil.
Similarly there are biodegradable vegan leather jackets also available in the market that are more environment friendly since the amount of chemicals used in production process is either negligible or not present at all.